Thermal Solar Collectors
Energen premium Blue Tec Solar Flat Plate collectors are made from high efficiency Bluetec absorber technology from Germany.
Our solar collector is approved to EN129752 and the European Solar Keymark Standard.
Compliance to these standards assure you that the collector is high quality and capable of operating for many years. The testing checks the product's ability to withstand temperature, internal pressure and thermal shocks, rain and UV resistance, mechanical loading and impact resistance.
Collector Features:
High performance the absorber is made from sputtered Titanium Oxide coating on an aluminium surface.
High absorption efficiency of 96% and very low emissivity 4% make this a top performing collector in all climate zones.
Glazed with low iron toughened & textured high efficiency prismatic glass with a transmittance of 97% and very low reflectivity of just 7%.
European Solar Keymark EN 129752 certified for durability, efficiency and performance.
Blue high efficiency selective coating from Germany
50 mm fibreglass insulation and EPDM sealing strip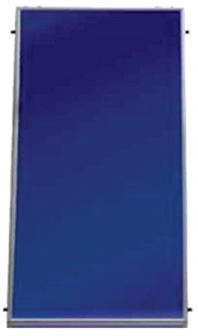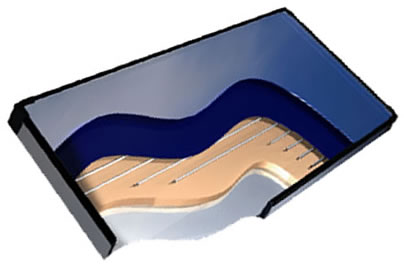 Glazing
Extremely strong and hail resistant low iron toughened and textured glass is used to maximize the solar radiation absorption and minimize energy emittance.
Absorber Plate
The Energen BlueTec P Series flat plate solar collector uses a high efficiency blue selective absorber plate which has been laser welded to the copper riser tubes. Blue Selective energy yields 555 kWh/m2.
Insulation
Rockwool insulation of 50 mm thickness with low vapour barrier and thermal conductivity < 0.048W/(m.K) is used to insulate the base of the collector to minimize heat loss.
Casing
The galvanized steel backing plate and the extruded anodised aluminium alloy frame provides excellent corrosion resistance and light handling capabilities.
Risers
Designed for either water or propylene glycol, the 18mm and 25mm diameter headers and 12mm risers conform to international standards.
Energen Premium BLUE TEC Solar Collector Performance